Exposing Kids of Color to Graphic Design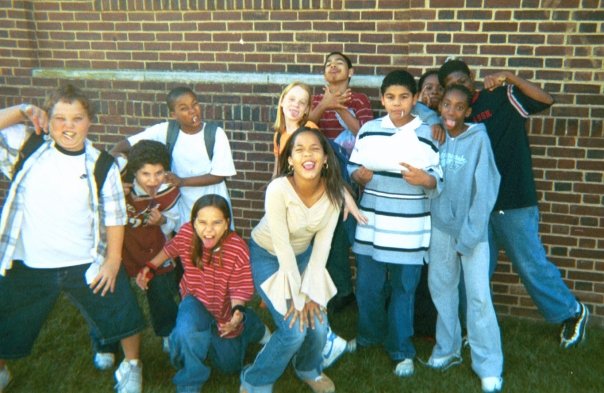 I take Pablo Picasso's quote seriously that every child is an artist. But I also take even more seriously this proverb from Tanzania's Bondei people:
Sticks in a bundle are unbreakable.
This African proverb reminds me of the Bible verse I had etched onto a ring that I gave to each of my two sons when they turned 13 years old:
…A cord of three strands is not quickly broken. Ecclesiastes 4:12b
The Bondei proverb and this Bible scripture focus on strength and community. I grew up in a fragile poor and working class African American community in North Philly. Most of my formative years happened before the advent of Crack Cocaine. I mention this because this drug quickly destroyed any semblance of community in many poor African American communities in the mid 1980s into the 1990s. By the time it took hold, I was a teen graduating high school and entering college. Today, I look back with fondness on the community where I was reared. Contrary to popular perceptions, North Philadelphia prepared me for life in ways that a college degree could not.
Once I received my degree in Graphic Design in 1990, I moved out of Philly and worked professionally for seven years. During this time, I was a youth minister in a poor and working class African American/Latino community in Lancaster, PA. Eventually, my wife and I moved back to Philly and I had a difficult time finding employment. I also was becoming discontent with the design field because of the discrimination I was encountering. This made it difficult to find mentors. (I am thankful for retired graphic design professor Ken Hiebert who one of my employers hired to do consulting work. Even though we did not always agree, he gave me great insight into sociology, design theory and the language of visual aesthetics.) At one point, I decided to leave the profession to help young people in the same way a local church helped me during my teen years. So, in the late 1990s, I moved my young family to Wilmington, DE for seven years to do youth work. I was based in Riverside, one of the poorest sections of the city. It was a housing project with an African American population and was pretty isolated: an inner city highway to the north; abandoned buildings to the east; a train yard, city dump and interstate highway to the south; a prison and river to the west. Drugs and violence were common in this area. It reminded me of my native North Philly in some ways.
We established an aftercare program at the local elementary school. I spent several evenings hanging with middle and high school students. But most of my work centered in a daily K-6 elementary afterschool program teaching the character development component. I wrote my own curriculum that integrated fine arts and science. Once I got to know the students and I learned how to interact with them, we had a blast. I enjoyed occasionally walking home with them although I was advised not to do this because of the police. I was able to get to know their family, friends, and unfortunately the local drug dealers.
During our walks, I listened to the students describe their community and how it operates. I was amazed at their attention to detail in describing a friend's house, the items in their cousin's room and even the drug game. One important skill in graphic design is the ability to be observant. These kids had to be very hyper aware of their surroundings because the climate in their community could change immediately beyond their control. It wasn't unusual for jump out squads (armed police in black Suburban SUVs) to roll up on anyone on the corner and shake them down. (This initiative by the police dept. was eventually discontinued because of the pressure from Black elected officials. This was an early extreme version of racial profiling in the early 2000s. I know innocent teens who were scooped up in their sweeps. It almost happened to me a few times because I looked so young).
As I thought about this awareness that was designed to keep them safe, their resilience in the face of despair was obvious. I could identify with it because I have had my own battles with poverty, racism, discrimination and my own personal demons. When you come out on the other side, you know you are battle tested. Make no mistake, these kids were warriors. (It is this mentality that literally got me through college when I had very little school and family support. I am thankful for my local church who helped me to tap into my own resilience to finish college.)
I started rethinking some of my curriculum and added graphic design. These are some of the projects I developed for them:
Developing a Written Alphabet-I created a lesson for the 6th graders teaching them about the English alphabet and challenging them to develop their own written language based on it. They learned about letterforms, kerning, ascenders, descenders, etc. They worked in small groups on graph paper learning to take the English alphabet apart and experimenting with legibility. Once we established how hard we could push readability, I broke them into groups again and gave them sections of the alphabet. Each group had to redraw the letters and put them on the board for the class to critique. Once they improved their letters, all of them were put on the board simultaneously to critique the whole and make sure the letters looked like they belonged to the same family. Once we finished, I asked them to write encouraging short sentences to each other during the school day. Their teachers became confused and thought they were plotting something nefarious. Eventually, the word got back to me and I explained the project. The teachers thanked me because it encouraged the students to read and write more. Eventually they started writing paragraphs. Once the group felt confident about the alphabet, they allowed me to share it with the younger kids in the program. The goal was to teach them visual literacy by using the English alphabet. (The letters below is what I remember from their alphabet. They deleted the spaces between words to mimic graffiti writing and to make the words feel more cryptic. This may be a basic alphabet to the average graphic designer but for elementary school kids, this was huge.)
Marketing 101-I creating a lesson using popular logos as a starting point. I showed the logos without their names such as the McDonald's arches, The roof of the Pizza Hut logo, the Nike insignia, Roc-a-wear (it was popular, then), etc. According to neuroscience research, the brain can process 10 -12 separate images per second. Repetition aids our ability to remember things (osmosis). The assignment for the 3rd-5th graders was to write down throughout the week which TV commercials they see, how many times they are shown and what makes them memorable. Each person came back with their research. The most interesting thing for the students was when they started seeing the patterns in the data. They figured out that the most memorable commercials had jingles, a likeable person and/or repeated the core message at least 3 times. The goal was to teach them how much we are influenced by marketing by looking at repetition, storytelling and music.
Moviemaking-I brought in a DVD with short skits. They formed groups but could not start acting out their ideas until they wrote a script. Their first ideas were very violent (which tells you what they were seeing on TV and in their community). Finally, they moved beyond violence as a plot to more humane ideas. We discussed certain movies and their plots. They started writing their stories and determining roles. (A few groups struggled because everyone wants to be the main character. I had to help them through this.) But before they could start practicing, they had to develop visual merchandise (movie posters , etc) to promote it. Once they had a solid plan, I allowed them to put in a request for props (things they needed for their skit). Once they received them, they practiced the skit and were given feedback from each group. Once I approved it, it was filmed and edited. The goal was to teach them about the important of developing a visual aesthetic as they developed their marketing product (movie).
These exercises were meant to encourage healthy interdependence among the students, build confidence in their creative problemsolving skills and help them discern visual culture. As they graduated and attended middle school, I started programs at their schools and continued to integrate graphic design principles. These are just three examples.
I am grateful for many of these young people. Including the picture at the top, they are adults now and I am connected to many of them on social media. (That's me in the middle below.)
There are other things that we did but these are the most memorable. What have you tried?
Update: During my time in Wilmington, I pursued a Masters degree to give me a competitive edge outside of graphic design because I had decided to leave the field. I left Wilmington in 2006 and graduated with a MA in Urban Studies in 2008. I became a Communications Director at a small Christian high school geared towards providing a high quality education for youth from disadvantaged areas. I also taught Bible History and Media & Culture classes. In addition, I taught social science college courses geared primarily to an African American population. In 2013, I decided to re-enter the graphic design field and went full time with my branding and design business armed with design experience, research strategies, audience research and marketing knowledge targeting small to medium size nonprofits who make a difference in people's lives.