We Won a Design Award! Wahoo! But Does it Mean Anything?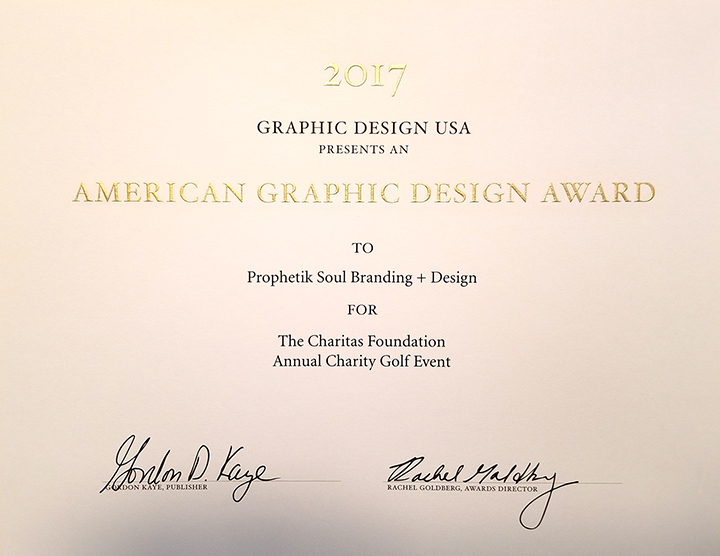 One of our projects for a philanthropic foundation won a 2017 Graphic Design USA award. Yay! It will be published along with the other winning entries in print, web, digital and mobile categories next year in the 54th GDUSA Graphic Design Annual. The Charitas Foundation's (TCF) mission is to positively impact the lives of individuals by sowing financial seeds into organizations that have life changing missions. Their desire is to give to organizations that focus on anti-human trafficking efforts, educational scholarships and the arts.
We partnered with them to design the branding materials for their 2016 Annual Charity Golf Event. The award winning project included concept development, print, (brochure, program, etc), digital (e-newsletter, graphics), directional signage and branded gift items. To see the whole project and learn more about our design process, click here.
Charlie Sifford's image was used in TCF's materials to give voice to African American talent that has been neglected in certain periods of American history. He started playing golf professionally in the 1940s. Charlie was the first African American professional golfer to play in the PGA Tour in the 1960s. He is in the World Golf Hall of Fame and is referred to as the 'Jackie Robinson' of golf.
Its great to be recognized but this is not why we do what we do.
We enjoy projects from organizations like The Charitas Foundation for one reason: they are serving the least of us. As a kid and youth, Ron was the recipient of this type of goodwill from a few organizations. They were attempting to help close gaps in his life that would make it easier for him to become a healthy functioning adult. Their efforts were long term and involved recreation, character development, education, leadership development, spiritual formation and community. They took time away from their own families to help him and they succeeded. To read Ron's unbelievable story.
Today, Prophetik Soul Branding + Design is doing the same. Because of our mission:
We continue to help close the gaps for disadvantaged youth through speaking and mentoring.

We continue to practice a high commitment to quality branding and design that helps you communicate who you are

.
This award only means something if we are able to help the least of these. If you want to work with a team that embodies this, click here or a free 30-minute consultation.